21.12.
2022
Sehr geehrte Teilnehmerinnen und Teilnehmer der GLA Fort- und Weiterbildungen, liebe Freunde und Freundinnen des Gläsernen Labors, geschätzte Unterstützerinnen und Unterstützer des Forschungscampus Berlin-Buch,
die Akademie des Gläsernen Labors und der Campus Berlin-Buch wünschen Ihnen ein frohes Weihnachtsfest und ein Jahr voller Freude, Zuversicht und Gesundheit. Mit diesem Weihnachtsgruß verbinden wir auch unseren Dank für die angenehme Zusammenarbeit und das uns entgegengebrachte Vertrauen.
Auch in 2023 bieten wir Ihnen wieder ein volles Programm mit Weiterbildungsveranstaltungen für Wissenschaftler*innen, Technische Angestellte und Laborant*innen der Lebenswissenschaften.
Mit der Eröffnung des BerlinBioCube haben wir Großes vor und freuen uns auf viele neue Gesichter in unserer Campusgemeinschaft.
Im Namen des gesamten Teams des Gläsernen Labors und der Geschäftsführung der Campus Berlin-Buch GmbH
herzliche Grüße
Uwe Lohmeier
***************************************************************************
Dear participants of the GLA training courses, dear friends of the Gläsernes Labor, valued supporters of the Campus Berlin-Buch,
The Gläsernes Labor Akademie (GLA) and the Campus Berlin-Buch wish you a Merry Christmas and a year full of joy, confidence and health. With this Christmas greeting, we also express our thanks for the pleasant cooperation and the trust you have placed in us.
In 2023, we offer again a full training program for scientists, technical and laboratory assistants in the life science area.
Moreover, we have big plans for the opening of our BerlinBioCube and we look forward to seeing many new faces in our campus community.
On behalf of the entire team of the Gläsernes Labor and the Campus Berlin-Buch Management
kind regards,
Uwe Lohmeier
*********************************************************************
Dr. Uwe Lohmeier
Dipl. Biologe
Gläsernes Labor Akademie (GLA) Management
Campus Berlin-Buch GmbH
Robert-Rössle-Straße 10
13125 Berlin
Telefon: 030 / 9489 2935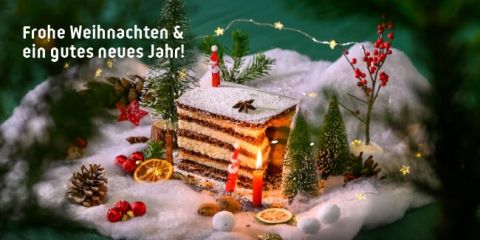 Foto: Peter Himsel